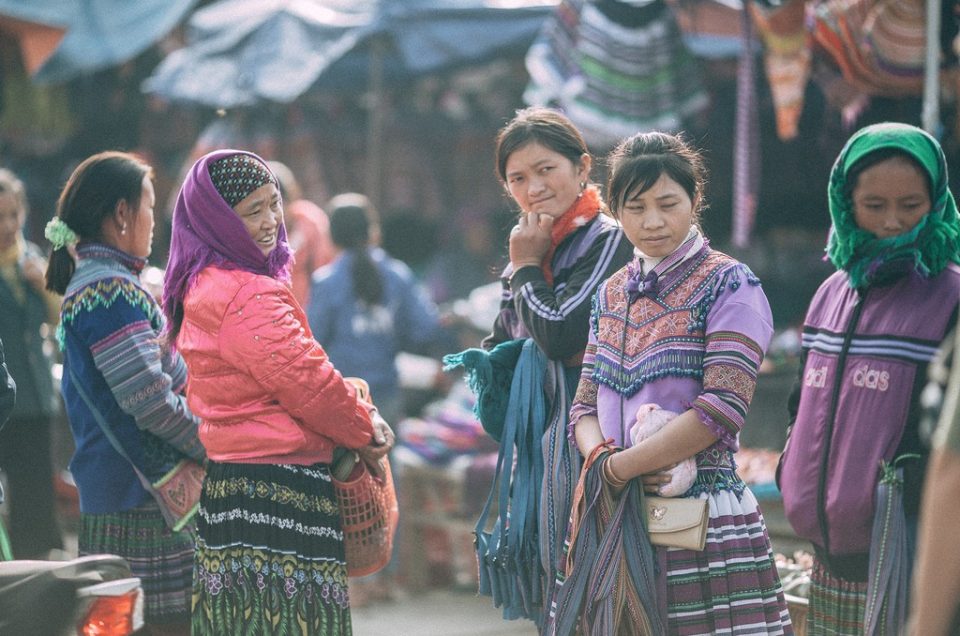 The fair market of 14 ethnic groups, usually held in weekends in Bac Ha, is an interesting cultural meeting point for both domestic and foreign tourists when visiting Lao Cai.
Bac Ha Cultural Market is held every Sunday in the center of Bac Ha town, Bac Ha district, Lao Cai province, approximately 65 km from Lao Cai city. This market is the most famous, culturally rich, and largest in the Northwest highland area.
I get to know about Bac Ha market from the introduction of a friend living here. In my spare time on weekends, I would catch a coach to travel to the Northwest to experience the simple, rustic life of locals here and, of course, to capture the charming beauty of this land through my lenses.
My first impression of the market was the bustling, colorful, bold atmosphere of the uplands. Bac Ha market is the center of trading and exchanging goods for many different ethnic groups, hence, this is a place particularly rich in cultural identities. Highland traders and women, mothers and girls, in their colourful traditional brocade dresses, also add to the living uniqueness of this market.
The thing I remembered most about this market is the image of steaming sticky rice basket of an old granny as she waved off my request to take a picture. However, I still stubbornly hanged around until I was able to take a snap of the aromatic fog of those steaming sticky rice as she unwrapped the cover. This picture radiates warmth to the cold winter up in the highland.
If you want to immerse yourself in the atmosphere of Bac Ha market, you should get here early in the morning. You will be fascinated by the scenery as the morning sunshine lights up the colorful goods or costumes of local highland people.
Each corner at the fair has its own charms. Many traditional items are sold, from objects to animals. After several times coming here, I was most impressed by the horse market. In these corners, horses are traded as the main means of transportation for numerous upland ethnic groups.
Besides, dog market is one of the busiest corners in the fair market. These mischievous, chubby mountain dogs are waiting for their new owners here.
Tourists visiting Bac Ha market certainly can't miss its colorful souvenir booths. So oftenly when leaving, their hands all carry some small gifts as small piece of memory in their Northwestern cultural trip.
Foreign tourist particularly love dolls in traditional costumes of the ethnic groups.
Brocade booths selling all kinds of clothing, all are handmade products by mothers and grannies themselves. You can buy either these traditional costumes or colorful towels and blankets as gifts for your friends and relatives.
Silver jewelry such as necklace, bracelet, earring are indispensable items in the traditional wear of many ethnic minorities living in Lao Cai. All of these items are handmade and have a distinct color from the normal one you see in common silver shops.
Kids with rather blond hair, rosy cheeks and a bit of smudgy face, following their mother to the market is a common image in the market in Bac Ha.
Although this is a cultural market, the market is also full of everyday activities of local people.
This largest market in Lao Cai attracts numerous international visitors to come and experience. For me, Bac Ha fair market is always charming with the bustling, colorful and idyllic beauty of the North West.
Source: Zing.vn
READ MORE: